The Punjab Emergency Service Department of the Government of Punjab has put out the Punjab community safety building regulations Act for 2022. For the safety of their building, which is 50 feet above the ground, the building owners must fill out applications. This announcement is made because of the act of 2022.
So, in order to make sure their building is safe, building owners must get building certificates from the emergency service department. People can get this form from www.Rescue.gov.pk, which is the official website of the Punjab Emergency Service Rescue 1122 department.
Which company or building is fall in this Act:
Building:
The building is included in Punjab community safety building regulations Act 2022 which height is 50 feet or above the ground. Basements are also included in this height.
Health club:
All sports activities center fall In Health Club according to Community safety and building regulations.
Health clubs included in the Punjab community safety building regulations Act 2022 are those which have users 50 or above 50.
A health club is a place that offers services or facilities like a health club that is meant to improve or keep the user's physical condition or appearance through exercise. The term can refer to
fitness club,
fitness center,
health spa
gym
a place with exercise equipment for working out.
Building Safety Regulations Measures:
equipment set is necessary for every building to make sure safety in case of a major incident.
According to the Punjab community safety building regulations Act 2022, all building owners shall ensure the following;
Emergency exit and staircase:
Buildings must have two escape stairs, one of which may be an outside staircase. There must be an extra escape staircase on each level after every 6,000 square feet. A hundred feet is the maximum distance that may be traveled to reach an escape stairway.
(b) All staircases, with the exception of those on mezzanine levels, must have a hinge-type escape door that opens outward and has a minimum one-hour fire rating, headroom clearance of eighty inches, and a width of three feet.
In accordance with the Code, the number of exits and stairs must grow in proportion to the occupancy load in public gathering or assembly spaces.
The staircase must always be free of obstructions and be situated such that it offers access to a space with clear access to the road for emergency escape. There must be open-air refuge places on the floor's edge or on a cantilever projection for structures taller than 100 feet.
In order to facilitate evacuating people in an emergency, each level of the staircase must have accessible windows that open toward open space and be powered continuously for at least 90 minutes.
All stair treads must have round edges and a minimum of a maximum seven-inch riser and eleven-inch tread width.
If the staircase requirements for existing structures are not met exterior stairs must be supplied in accordance with the aforementioned specifications.
Exit Signs:
(a) Each corridor must have lighted exit signs with emergency lights directing people to the escape door and stairway. The word "EXIT" must be displayed on the sign in large, easily readable characters that are at least six inches tall.
(a) The exit signs must be clearly visible from any direction of exit access and posted at strategic locations along the evacuation route.
Fire Alarm System:
Man is reaching his hand to push the fire alarm hand station
(a) All areas linked to a central control panel with an unbroken power supply must have an automated fire alarm and detection system installed in the building.
(a) Manual fire alarm boxes must be installed on every level, 60 inches from the exit doorway, and linked to both flasher and audible fire alarms.
Installation of Fire Extinguisher:
Fire Extinguisher of different types should be installed in every building even the kitchen so that fire safety may be ensured
According to the Code, buildings must contain at least one multifunctional (A, B, C) dry chemical powder of at least twelve pounds or the necessary fire extinguisher(s) in working order for every 2,000 square feet of floor space.
Except for combustible cooking, the maximum travel distance to a fire extinguisher should not exceed 75 feet.
The travel distance from the danger to the extinguishers must not be more than thirty feet in this location or other hazardous places.
The top of fire extinguishers with a gross weight of up to forty pounds must not be positioned higher than five feet above the ground.
Fire extinguishers with a gross weight of more than forty pounds must be mounted such that the bottom is at least four inches above the floor and the top is no higher than three and a half feet from the ground.
First Aid Box and Automated External defibrillator:
first aid box is mandatory for every office
The owner must see to it that a first aid kit is available, easily accessible, and kept in good working order on each floor of the building. This kit must include at the very least triangular, cloth, and cotton bandages, sterilized gauze pieces, cotton rolls, antiseptic solution, regular saline, scissors, sticking tape, antibacterial cream, latex gloves, and facemasks.
The building's automated external defibrillator must be available, easily accessible, and maintained. It must also include at least two spare pads.
Heating Ventilation and Air Condition System:
(a) Buildings must have fire dampers in the ductwork of their HVAC systems to separate different floors and sections.
(b) Fire-retardant material must be used for the ducts' insulation.
General Safety:
Both within and outside the structure, fire retardant materials must be utilized for the paneling, insulation, ductwork, flooring, and cladding.
In order to prevent the spread of fire and smoke from one level to another, the inter-floor connection must be isolated by fire-resistant material.
When distinct occupancies are offered in a building or big floor area, the building's components must be divided in accordance with the Code.
No portion of the basement must be used for bulk storage of highly flammable liquids or explosive substances (s).
Inside and outside of the structures, there must not be any tangled or loose hanging wires or unsecured electrical connections.
No projecting rods, bars, or sharp edges are permitted within or outside of structures.
Automatic sprinkler system: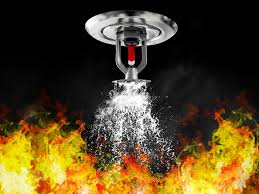 Automatic sprinklers must be placed in all buildings such that they cover every space, except those that are specifically excluded from coverage under the Code.
Automatic water sprinkler systems covering all areas must be installed in all underground parking garages.
Hydrant System:
According to Punjab community safety building regulations law hydrant system should be installed in every building which lies in Punjab community safety building regulations law;
An external fire hydrant of the pillar type in red with two outlets of the instantaneous type couplings with a 2.5-inch diameter must be installed, and pressure must be maintained in accordance with the Code. The distance between the hydrant and the access road for the fire rescue service cannot be more than twelve feet, and there must be at least five feet of free space in front of each hydrant.
Standpipe systems with 2.5-inch diameter landing valves and instantaneous connections maintained at a minimum seven bar pressure must be installed on each level of the structures. The system must also be linked to a 100-foot delivery hose with a 1.5-inch nozzle or a 1-inch non-collapsible hose reel, both of which must be kept in hose cabinets next to each exit.
The hydrant and sprinkler systems must be independent of the building's main water supply system. Pressure must be maintained on all floors using an electric pump with a suitable capacity and a backup pump that can continue to operate in the event of a power outage or when the building's main supply is cut off.
Independent internal overhead tanks of 7,000 gallons must be installed within buildings up to 100 feet in height for the fire suppression system. If a structure is longer than 100 feet, it must contain a thirty-thousand-gallon subsurface water tank and a fifteen-thousand-gallon independent internal overhead water tank. The number and size of the tanks must rise along with the building's floor area and height.
Clear Access and removal of obstruction:
Buildings must only be built on roads that are at least thirty feet wide in order to provide convenient access for emergency and fire vehicles.
The front of the building must be easily accessible for emergency and fire vehicles. It is forbidden to place billboards, hoardings, signboards, louvers, or safety grills in a manner that prevents access to the structure from any side for fire and rescue operations.
Enough parking must be provided for all building occupants to provide safe access to emergency and fire vehicles.
All exterior wires and cables must be handled along their paths so that they do not hinder emergency and fire vehicles from moving above during emergency operations.
Evacuation Plan Assembly Area and Drills:
Punjab community safety building regulations Act provides provisions for Evacuation Plan Assembly Area and drills:
Buildings must post floor numbers and evacuation plans in a visible location near entrances and exits, as well as emergency phone numbers on every level.
All buildings must have designated gathering areas where inhabitants may congregate after being evacuated. For easy identification, this assembly space must be prominently labeled as an "Assembly Area." It must be set up in a public area at a reasonable distance from the building.
At least twice a year, emergency evacuation exercises must be held, and residents must be requested to gather in the specified gathering sites.
An emergency command center must be created in accordance with the Code for structures taller than 100 feet.
Community Safety Measures for Health Club:
a user is doing exercise in a gym for his physical fitness
the Punjab community safety building regulations Act 2022 specifies Community Safety measures for Health Club as;
A fitness club that can accommodate 50 or more people at once must make sure that a certified health care provider or MBBS doctor is on-site during business hours and has the essential emergency supplies:
As long as a health club can accommodate less than 50 people at once, it must guarantee the presence of a certified health technician with a certificate in health and safety from a recognized organization to respond to any medical emergency.
The owner of the Health Club will file an application and Punjab Emergency Service Rescue 1122 will issue a certificate after the visit. This certificate will be valid for one year.
Application Procedure:
Application form for registration can be downloaded from Rescue 1122 official website or you can directly download it from this link https://rescue.gov.pk/Application%20Form%20for%20Safety%20Measures-%20Buildings.pdf
These actions will be completed in line with the Punjab community safety building regulations Act,
To request the issuing of the Certificate, the building owner must submit a properly filled-out application form, which is accessible via the Punjab Emergency Service Rescue 1122 official website.
The following details must be on the application form:
Name and contact information for the building's owner (a);
the building address;
a description of the structure, mentioning its kind, dimensions, height, number of floors, etc.;
the varieties and specifics of habitation and business;
the building's staircase count, kind, and position;
specifics of building safety measures; and
a copy of the building's emergency action plans.
The application and its accompanying documentation must be submitted together.
Applications that are not full will not be approved.
Within 30 days of the application's receipt, the Officer must analyze and evaluate the application and provide an intimation notice for a building inspection.
The Officer has the authority to deny any application, but if the owner requests it, the Officer must record and explain the reason(s) for doing so.
The Officer must provide the building with seven days' notice before the inspection begins.
Issuance of certificate:
Punjab Emergency Service Rescue 1122 will provide a Certificate after inspecting the building according to Punjab community safety building regulations Act;
After inspecting the building, the Officer of District Emergency Officer of Rescue 1122, if satisfied, will issue a Certificate for the year that will need to be renewed every year.
The Certificate will be void in the event that any building safety regulations are broken.
The building's owner must see to it that the Certificate is prominently displayed within the structure.
Within one month of the certificate's expiration, the owner must submit a written request to the officer for the renewal of the certificate, together with any updated information and supporting documentation (if any).
Suppose there are any changes made to the building. In that case, the certificate will no longer be valid, and the owner will need to reapply for certification using a properly completed application form.
The Certificate must not be sold or given away. If the building's ownership changes, the new owner must reapply for the Certificate.
Nothing in these laws prohibits issuing the same individual with several Certificates for various structures.
General Provisions and Penalties:
These are some general provisions and penalties Punjab community safety building regulations Act;
When the Officer has cause to think that a building or the owner of a health club has violated any provisions of this Act or the rules, he should give notice to the building or owner, outlining the steps that need to be taken to ensure compliance with the applicable legal laws.
The Officer may suspend the owner's safety measure certificate or seal the building or the health club if they don't respond to the notification within the allotted period.
The officer may impose an administrative penalty of up to 50,000 rupees against anybody who violates the terms of this Act.
The Administrative Penalty, which may reach 100,000 Rupees, shall be levied against any person who violates the requirements of this Act a second time:
Additionally, if the terms of this Act are violated for the third time, the Officer may suspend the safety measure certificate or seal the building or the health club.
Appeal:
Regardless of any other laws now in effect, within 30 days of any order being made under this Punjab community safety building regulations Act, a person may appeal it to the Director General Punjab Emergency Service Rescue 1122, whose judgment is final.
Conclusion:
We may infer from the above explanation that the Punjab community safety building regulations Act, was essential for the safety of our neighborhood. In instances involving various multistory structures, hundreds of people have died in fires and building collapses. Providing for people's safety in both public and private spaces is one of the main duties of the government. Prevention is preferable to treatment. Therefore, we should take measures to save our community and provide the government and Punjab Emergency Service Rescue 1122 with our support for such actions.